ByCycle, the Perth and Kinross Cycle Campaign, leads regular rides around Perthshire to encourage cycling and publicise its benefit for the community, individuals and the environment. The voluntary organisation aims to ensure that public policy actively encourages cycling for work and leisure and makes full provision for it as part of overall planning and transport strategy. It achieves this via consultation, active representation to appropriate bodies and by liaising with other organisations with common interests in active travel by non-motorised users.
Quarterly meetings are open to all interested individuals or group representatives.
Latest News - Last Updated Monday 14th January 2019
Consultation on 20 mph speed limits
Please respond to the Scottish Government's consultation HERE BEFORE 28th January 2019.  Further information is available on our ISSUES page.
August Special Ride 19th August 2018 from Dalwhinnie
We are pleased to announce that 76 riders registered for our Special Ride this year, close to our capacity.  In spite of some very wet weather, all riders completed their journey successfully and many congratulated ByCycle on another exception event which was well planned and delivered.  Look out for information in the New Year about our next Special Ride in August 2019.
Katharine and Mike ride with PKC  Councillors
Councillors Angus Forbes and Lewis Simpson met with local cyclists including Katharine,  Mike and Sam Bird on Friday 31st August to cycle around Perth and discuss what improvements could be made to the road network to benefit cyclists.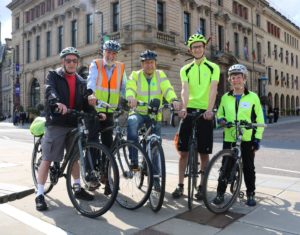 Check out pic.twitter.com/P8N2XMBKb8
W

ednesday Evening Rides
Our Wednesday evening rides for 2018 have concluded.  Margaret Scott is looking for help in organising the 2019 schedule of rides starting on Wednesday 24th April and ending on Wednesday 28th August.  Please see her email here. You can still get an idea of the type and distance of Wednesday evening rides by visiting our 2018 schedule,
Next Schedule

d Ride
Unfortunately our scheduled December ride round the Dundee Circular had to be cancelled in the interests of safety due to the forecast weather conditions.  We would hope for better weather for our January ride on Sunday 20th January.   Members will be emailed details of the ride a few days beforehand.  If you want to be kept informed and are not a member, you can join here now.
Members' Latest Adventure
Read about Jean and David Peacock's latest travels and recommendations travelling through four countries between Germany and Hungary.  [read all] and Katharine and Nicola's journey from Barra to Butt of Lewis.
If you want to join ByCycle and get involved in our campaigning, marketing  and/or rides, please go to our ABOUT-US page now.  
Last Meeting: Wednesday 17th October 2018
Draft minutes are now available here.  
Next Meeting: Wednesday 16th January 2019 at 7.00 pm.  It will be held in the Congregational Church meeting room on the corner of Mill Street and Kinnoull Street in Perth PH1 5EN.  A copy of the agenda can be found here.  All welcome.