No Fees for New and Existing Members
It was agreed at the April 2019  ByCycle AGM that there should be a moratorium on the collection of fees from members of ByCycle in 2019/20. This means that it is completely free to be a supporter and/or participant in ByCycle's campaigning and rides. Please take this opportunity to join, or recruit others, to our organisation that campaigns on behalf of cycling and cyclists. The more members we have the more the impact we can have on improving the facilities and routes for cycling and the safety of cyclists. You can find the form to join ByCycle on our AboutUs page on the website. It only takes 5 minutes to complete and your support would be much appreciated.
Proposed Upgrade of Path between Muthill and Auchterarder
Colin Calder recently attended a community meeting on behalf of ByCycle to hear proposals to upgrade the old railway line between Muthill and Auchterarder into a 4.3 miles cycle path suitable for all abilities..  A copy of his summary of the meeting can be found here and the outline proposed route here.  
Below are some images of the path as it looks now.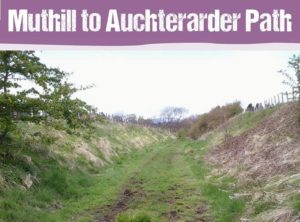 Perth and Kinross Council is currently bidding for substantial funding from Sustrans under their Community Link Plus programme which encourages a broad approach to the design, building and use of walking and cycling infrastructure.
The Council has progressed to Stage 2 in the bidding process, along with seven other Local Authorities including Dundee and Angus, and is consulting currently for their detailed bid on YourPlaceYourFuture website. This bid has to be made by April 2019 and Sustrans will announce the winners in Autumn 2019 with projects due to start in June 2020 with, potentially, a 4 year timescale.
Essentially, Perth and Kinross Council's plan is the creation of eight new, safe and direct walking and cycling routes into the city centre which will encourage more active travel and help improve the look and feel of local areas. The routes would link to public transport and National Cycle Network routes in the area.
Please check out YourPlaceYourFuture, read through the comments for the routes that most interest you and, perhaps, make some comments of your own.  You can see some current proposals here.
Do bear in mind that these projects are dependant, not only on a successful bid, but also matched (50%) funding which has not always been forthcoming in the past. In the meanwhile, if you have any suggestions for more short term projects such as cycle stands, advertising and signage, to improve your cycling experience please pass to either Katharine or Mike who will feed directly into Perth and Kinross Council at one of our regular meetings with them.
Sustrans and Bike Life promote Perth as a Cycling City
Inspired by the Copenhagen Bicycle Account, Bike Life is an assessment of city cycling development including infrastructure, travel behaviour, satisfaction, the impact of cycling, and new initiatives. It is funded by Transport Scotland and co-ordinated by Sustrans.
Bike Life is expanding in Scotland and the first Bike Life report on Perth, which was published in November 2018, can be found here. It presents many very interesting statistics on the way that people in Perth use their bikes, the benefits of cycling and what is needed to encourage more people to cycle. The actual report can be downloaded here. 
Upgrade of path between Dunkeld House Hotel and Jubilee Bridge
We have new start and finish dates for the NCN 77 upgrade in Dunkeld.  Vegetation clearance will start week beginning 19th March.   Full site work will start on 25th March when the path will be closed between Dunkeld House Hotel and Jubilee Bridge until the anticipated completion date of Friday 31st May.  This is for a major surface upgrade.  There will be diversionary signage via Ballinluig using Route 83 (the cycle path alongside the A9 passing through Kindallachan). Posters showing diversions, including for cyclists travelling south at Logierait bridge, will go up a couple of weeks beforehand.  The project will be administered by Perth and Kinross Countryside trust and will be funded by Sustrans as part of their extensive plans for improvement of standards on the NCN.
Path surface improvements for NCN77 are also in the pipeline for financial year 2019/2020 alongside the North Inch golf course in Perth – where protruding roots are causing significant problems – and from Double Dykes to Huntingtower.
ByCycle re-affiliates to Cycling UK
ByCycle has now renewed its affiliation to Cycling UK.  This has various benefits for ByCycle as a group but also to you personally.
If you, as an individual, join Cycling UK as an affiliated member you will get a substantial discount on your subscription. You will also get other benefits such as:
Third party insurance which covers you against any damage or injury you cause while riding your bike, whether with ByCycle or not. It covers you in time trials and sportives but not in any other kind of competitive cycling.
Access to a wide range of member benefits and discounts although only full membership provides access to the free legal advice claims service.
The knowledge that you are supporting the work of a national organisation on behalf of cyclists.
Check out the full benefits to you here then, if you want to join Cycling UK as an affiliate member, please email mikesimm259@gmail.com who will confirm your membership of ByCycle by giving you ByCycle's affiliation Code then follow the 'join' option to 'Buy affiliated membership' on the website.,
Check out Lorna's excellent article on the fun opportunities you can have helping Cycling without Age.
Katharine and Mike ride with Councillors
Councillors Angus Forbes and Lewis Simpson met with local cyclists including Katharine,  Mike and Sam Bird on Friday 31st August to cycle around Perth and discuss what improvements could be made to the road network to benefit cyclists.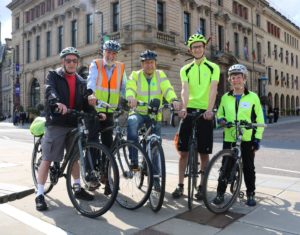 Check out pic.twitter.com/P8N2XMBKb8
Perth Transport Futures Project
Update on Perth Green Routes
Tay Street now shared use
The Redetermination Order to make the Tay Street pavement dual use and signage in place.  A toucan crossing to replace the existing pelican crossing is scheduled.
There are also plans to improve the section from under the railway bridge all the way to the railway station.
The likelihood at the moment is a widened redetermined shared use pavement.
See map for what has been approved.
Map of Highland Perthshire
Updated 2016. Scale 1:100,000 12 graded cycle routes including Etape Caledonia. Waterproof and double sided. Includes the earlier East Perthshire map and the Strathearn map north of Crieff and Comrie. Also includes some mountain bike areas.
Order direct from Harvey Maps